Take a look at the job postings related to climate, carbon, renewables, and sustainability and you'll see a vast difference to the numbers just a few years ago.
According to one report, from GlobalData, there were about 960 jobs available in the sector in March 2021, compared to 1400 jobs in March 2022, according to a recent report from GlobalData's job analytics database.
But managing director of environment and sustainability recruitment company Talent Nation, Richard Evans says that companies are no longer looking for sustainability and environment specialists, but rather senior corporates are moving into ESG roles.
"We're seeing the rise of ESG. There is an increased focus from investors and boards leading to roles classified as ESG rather than sustainability."
And with job postings and vacancies at record highs, many high-level professionals are not looking for jobs in the classifieds. They are seeking appointments with a high value proposition – and that doesn't just mean the paycheque. Companies are having to really stand out from the crowd when it comes to attracting high level talent.
The shift from ESG to sustainability
It's common to use the terms ESG and sustainability interchangeably. Since the "E" in ESG stands for "environmental", it is easy to think that sustainability is one aspect of ESG. However, there are key differences that have implications for corporate strategy, communication, and reporting.
The main difference is that ESG sets specific criteria to define and measure environmental and social governance, on company stakeholders and decision-making – whereas sustainability focuses on just the relationship between a company and the environment.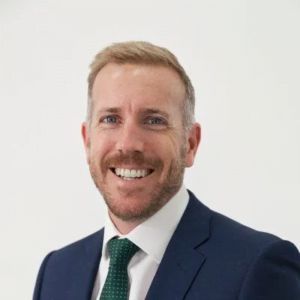 "Private equity, banks, venture capitalists – they are looking to de-risk their portfolios. Due diligence of funding and acquisitions now needs to include assessments of climate change impacts – particularly with large infrastructure assets," says Evans.
This includes looking at things like the supply chains and assessing whether there are any potential human rights violations.
"There's greater transparency these days. There's an obligation that you're sourcing things ethically and you're investing for the long term. We're seeing the shift from short-term, quarter-by-quarter, results-driven investment decisions to longer-term things like net zero targets. These have longer time horizons, rather than following short-term market fluctuations.
"It feels like everyone at the moment is doing this, right across the board. Real estate has always been a leader. But now banks are looking to bolster ESG credentials to ensure their product offering and structure of finance is rewarding organisations for de-risking their portfolio."
This creates secure investments, as businesses need to ensure they are not being left with stranded assets.
Senior corporate generalists are moving into ESG roles
Evans also says that he is seeing appointments being made in senior ESG roles where the professional is not necessarily from an ESG background. This, he says, is because ESG roles are now being elevated much closer to the executive, so the individual needs to have a solid understanding of the organisation, of business and finance. The role is about making good business decisions. And going green is good for business.
One large commercial real estate agency for example has recently made two new appointments heading up ESG. The two professionals have decades of experience in the commercial real estate sector, but no obvious background in sustainability or ESG – at first glance.
"The roles are becoming more mainstream and have a broader offering. It's not just a sustainability subject matter expert… it's a corporate role now, rather than a specialist role.
"They're blending sustainability and finance," Evans says. "Merging functions and complementary skill sets are being brought in."
All this is good news for companies, professionals and the planet as ESG is being elevated within companies as being essential to business success in the 2020's.
According to management consulting firm McKinsey & Company, a strong ESG proposition links to value creation in five ways: top line growth, cost reductions, regulatory and legal interventions, productivity uplift, and investment and asset optimization.
Case study: Australia lagging behind Europe
Caitlin Uren  is the head of ESG and repositioning in capital markets at  JLL Australia , providing targeted strategies to drive investment opportunities.
Prior to this, she worked within the JLL United Kingdom capital markets business, leading asset repositioning. At first glance, she has no obvious background in ESG. So how was she picked for the role?
In fact, Uren has recently returned from living in London, where she says the market is much more ESG-driven than it is over here.
"ESG has been, and continues to be, an absolute focus point for London. The government there is much more advanced in terms of sustainability. In Europe and the UK, all agents have to be knowledgeable in that space. In Australia, it is fairly new.
Uren works in capital markets and focuses on sustainable and value add investment strategies.
She has recently been supporting the sales campaign of the roughly $62 million redevelopment at 73 Miller Street in North Sydney NSW, which was designed to meet environmental commitments. The A-grade office asset targets 5 Star NABERS Energy rating and 5 Star Green Star design.
The company is focussed on ESG across all areas of business, and has invested in training agents in sustainability "for many years", Uren says.
"We now provide net zero carbon pathways as part of our due diligence process moving forward."
Uren admits that she is not a sustainability expert in terms of "technical" advice, but that it is beginning to be a requisite that professionals be across ESG, as capital in Australia is now starting to flow around what's green.
The institutional world, she says, is "absolutely on board" with ESG and "making great strides". But she says what's holding Australia back is private ownership.
"To date those landlords aren't as incentivised to spend the capital required to improve the environmental performance of those assets. We are doing our best to demonstrate the important to invest now or face the risk of brown discounts."
But Uren says she is passionate about her role and believes in the sustainability vision of the company and its power to influence investors.
Given that net zero was not part of active conversations in the finance world even last year, and that capital markets ESG professionals are new in Australia, Uren agrees that she is probably one of the early entrants.  But this means the field is wide open for opportunities.
"There's a huge educational opportunity in Australia… to learn lessons from best practice in Europe."
Professionals can see when companies are not genuine
To attract professionals who can help them achieve the value creation that comes with going green, Evans says that organisations need to have a high value proposition and genuine direction.
While the average salary for senior environmental compliance roles has jumped 35 per cent to $360,600 in the past two years, it's not just the salary that companies need to offer to attract these senior professionals.
"The market is moving so quickly. Demand is rising and roles are more senior, business-critical and mainstream. ESG is necessary to attract employees and clients.
"I've never seen so much demand for sustainability… All the consultancies are really busy. So the proposition needs to be right for candidates.
"These candidates don't respond to advertisements because they don't need to – there's so many options. The value proposition needs to be high to attract them – and that doesn't just mean salary.
"Salaries are increasing and they need to be competitive, but the strategy and direction for the organisation needs to be clear. People won't take a role for the salary increase if they don't feel that the executive and board are making strides in this space. Applicants can see when companies aren't genuine."